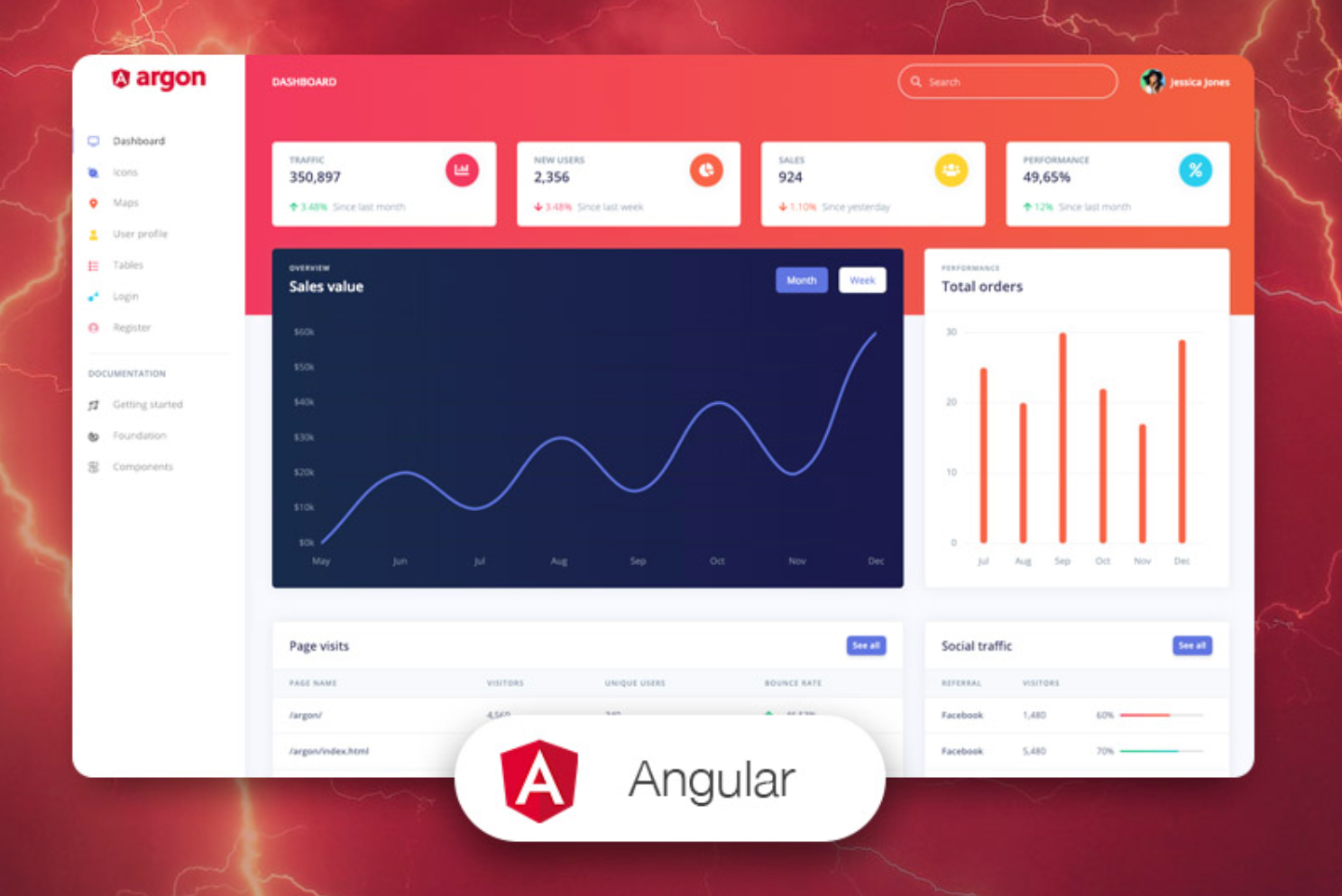 With such a great variety of UI templates on the market, isn't it hard to find the right one, that perfectly matches your project needs?
Angular is a TypeScript-based open-source web application framework led by the Angular Team at Google and by a community of individuals and corporations. Over the past years, Angular has become such a popular framework, that the templates market is now full of top free Angular templates that will reduce your project delivery time to 90%.
Here are some great Angular Templates examples.


Free Angular Templates Examples:
1 - Black Dashboard Angular
Black Dashboard Angular is a beautiful Bootstrap 4 Admin Dashboard that uses Angular with a huge number of components built to fit together and look amazing. If you are looking for a tool to manage and visualize data about your business, this dashboard is the thing for you. It combines colors that are easy on the eye, spacious cards, beautiful typography, and graphics.
---
2 - RDash Angular
rdash-angular is an AngularJS implementation of the RDash admin dashboard. The dashboard uses a small number of modules to get you started, along with some handy directives and controllers to speed up development using the dashboard.
---
3 - CdK Admin
This project was generated with Angular CLI version 1.5.0.
---
4 - Argon Dashboard Angular
Argon Dashboard Angular is built with over 100 individual components, giving you the freedom of choosing and combining. All components can take variations in color, that you can easily modify using SASS files. It is one of the best free Angular templates on the market.
You will save a lot of time going from prototyping to full-functional code, because all elements are implemented. This Dashboard is coming with pre-built examples, so the development process is seamless, switching from our pages to the real website is very easy to be done. Every element has multiple states for colors, styles, hover, focus, that you can easily access and use.
---
5 - NG-PI Admin
Based on Angular 4+, Angular CLI, TypeScript, Scss, Bootstrap.
---
6 - Paper Kit 2 Angular
Paper Kit 2 Angular is a free Bootstrap 4 UI Kit with pale colors, beautiful typography built for Angular 7. All components are fully responsive and look great on every screen size. Transitions, shadows, colors, they all resemble the flow you would have using pieces of paper.
---
7 - BlurAdmin Angular
Customizable admin panel framework made with ❤️ by Akveo team.  It is crafted with AngularJS, Bootstrap CSS framework, Sass, Jquery, and Maps. You can make a fully responsive user-friendly template with Blur very easily.
---
8 - Nebular 4.0
Nebular is an Angular 8 UI Library with a focus on beautiful design and ability to adapt it to your brand easily. It comes with 4 stunning visual themes, a powerful theming engine with runtime theme switching and support of custom css properties mode. Nebular is based on Eva Design System specifications.
---
Want more Angular themes & templates?
Subscribe to get updated when new Angular related products arrive!